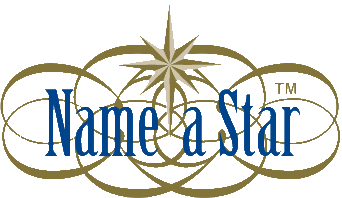 Dear friend,
If you are looking for a unique, romantic, special, one-of-a-kind gift, that would show your loved one how much you really care and put your relationship to the next level, then you must read this whole page!
Here's why.
By just filling in a simple form and clicking a button, you will be receiving the World's Most Unique Gift! We guarantee that you will have the most unique gift ever.
Why Should You Choose Name A Star®?
We are the original star naming company since 1978!
It is a very unique and uncommon gift idea
The probability of the person you are giving it to will get the same gift is very low!
It is the perfect gift for any occasion
It is a great way for someone to remember you
It shows your loved one that you went the EXTRA MILE to give a thoughtful gift like this
It will virtually last forever compared to more expensive gifts like flowers and chocolates
It is a powerful way to show you love him/her
With the exclusive brand and premium design you get the most out of your money
Buy at the convenience of your home and have it delivered to you for free!
Hey, we've been featured in Oprah!
Simply put, it is just Awesome…
Over the course of 3 decades, we have named stars for people all around the world. From powerful men, to celebrities, to school principals, to mothers, to grandpas, to babies and even those who have passed.
Now you can too…
It has always been hard for Filipinos to order online because of limited payment methods and the reluctance to trust having an item shipped. We have solved all those problems for you to make it the most convenient way to shop for the world's most unique gift.
Name A Star® started back in 1978, making us the original star naming company. We have dedicated countless hours to bring you the best and most memorable packages that you can give your loved one. Rest assured, your purchases will be handled professionally and securely.
Have You Heard About What Our Customers Are Saying?
"sorry for the late comment. i got it yesterday pa!
the idea for the cd was simple but brilliant! thanks for that! i burned an additional presentation into it just like u suggested. she was in tears in front of the computer! one surprise after another! salamat!
definitely got my money's worth just to see that reaction! More power to u guys!"
From Mr. Tan (New Manila)

"Grabe, salamat sobra!! My girlfriend was shocked that she almost cried when I gave it to her. Hindi niya akalain meron palang ganon na gift. Your the best!"
From Sir Jake (Binondo, Manila)

I was about to order thru my friend in the US. When she told me she can't, I looked again then I found nameastar and thank God its now in the Philippines and it's much cheaper for me!
From Ms. Cylen (Albay, Bicol)
We Call This An Exclusive And Premium Gift…
but do not be overwhelmed, we have created packages for all sorts of occassions and budgets! Check out our 2 packages that are available right now!
The Name A Star™ Standard Package
The Name A Star™ Ultimate Package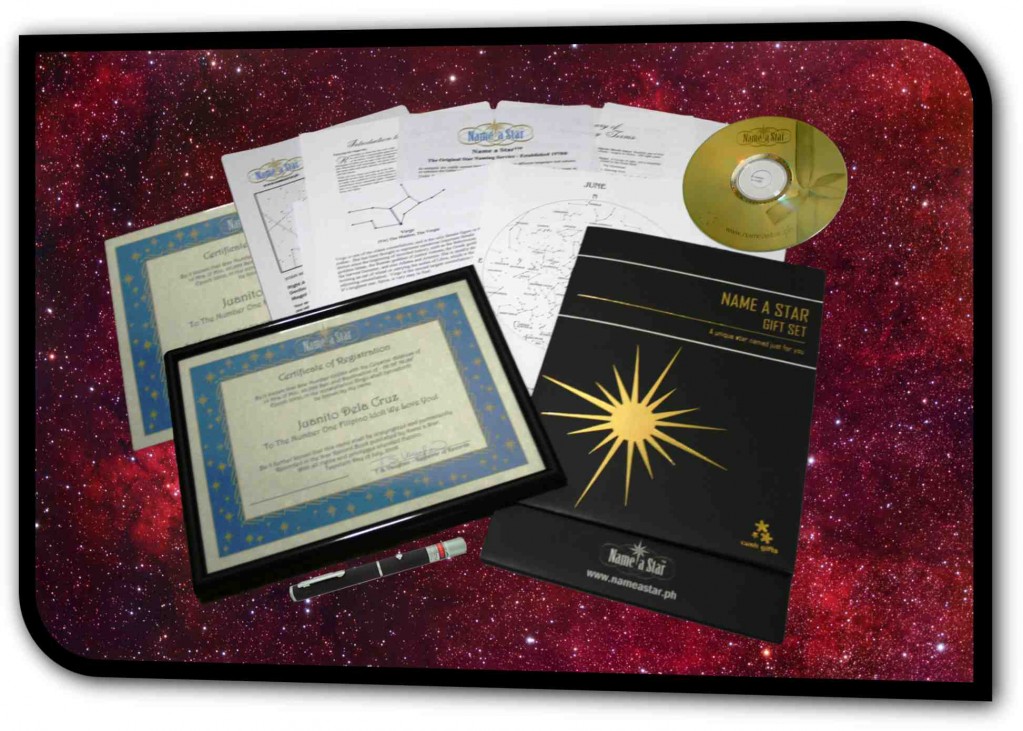 Have You Seen This Before?
Didn't you ever think about how great it would be to give a gift like that? We bet you did and it is now a click away! Fulfill the fantasy and make her(or his) dream come true.
Why Buy Online?
Have you ever wondered how your friends got such good deals compared to you that shopped in a mall? People in the Philippines have been buying all sorts of stuff online for years! From books, to digital cameras, to toys and other gifts! A digital camera cheaper by over 10 grand compared to what you got in a mall! You really can't beat online shopping. Why? Because those stores in the mall have really large overheads that they pass to you consumers which inflates the prices! That is why you can get better deals online.
Still Scared Of Buying Online?
Don't be. We know that safety is your main concern, we know because we also had the same doubts before. When we started online, nobody was buying. Everybody was scared of fraudulent acts because of all the stories they have heard. So why are people buying now? Because they are now more educated and online security has progressed!
Security….
That is our main goal throughout. We opted to tie up with Paypal to bring you the safest way to transact online. Transactions do not happen on the website or on our servers. They process it for us before we receive the payment. It is so much easier to pay with credit cards using Paypal. Just to add another safety procedure, please do not use public computers like in network cafes.
How about cash? We accept payments through two of the biggest banks in the Philippines. We have chosen Bank Of The Philippine Islands (BPI) and Banco de Oro(BDO) so you can pay anywhere and anytime! We require that you confirm with us your deposit so we can immediately finalize your order.
How About Shipping?
We have partnered with FedEx(Air21) to bring you the fastest and safest way to receive our products. We have worked with them for many, many years and we have developed a good partnership with them. We send out packages only twice a week to meet the demand and make our service to you efficient. You will get a tracking number as soon as the package is shipped so you can track it online. If you are in Metro Manila, your package should get there within a day's time!
Want To See More Testimonials?
"…I'm gonna hand it to him when we do the skywalk in Cebu. The night before I leave."
Ms. Valerie T. (Cebu City)

"nakuha ko to last week! ibang klase! sana lage ganito ka sweet ang mga boys perfect gift talaga especially pag pinaghandaan. Thanks!"
From Ms. Laine (Sta. Cruz, Manila)
"This was a big piece of the success of my proposal the other day! keep up the good work!"
From Mr. Kalvin Sy(Laguna)
Want It To Be More Personalized?
We now allow Name A Star certificates to be personalized with a personal message or tribute! Through simple and thoughtful things like this, your loved one will definitely feel that you really love them. Here are some sample tributes that past customers have used before.
When Can I Give A Name A Star Package?
This is pretty easy! Let's start naming special occasions:
Birthdays
Weddings
For A New Born Baby
Baby Showers
Father's Day
Mother's Day
Grandparent's Day
A Treasured Retiring Employee
A Favorite here in the Philippines – Monthsary!
Anniversary – Be it the first or the 50th!
In memory of someone special that has passed
Valentine's Day!
As a Christmas Gift!
…..Or just because you want to. Name A Star is certainly a gift for all occasions!
Give a Little Piece of Heaven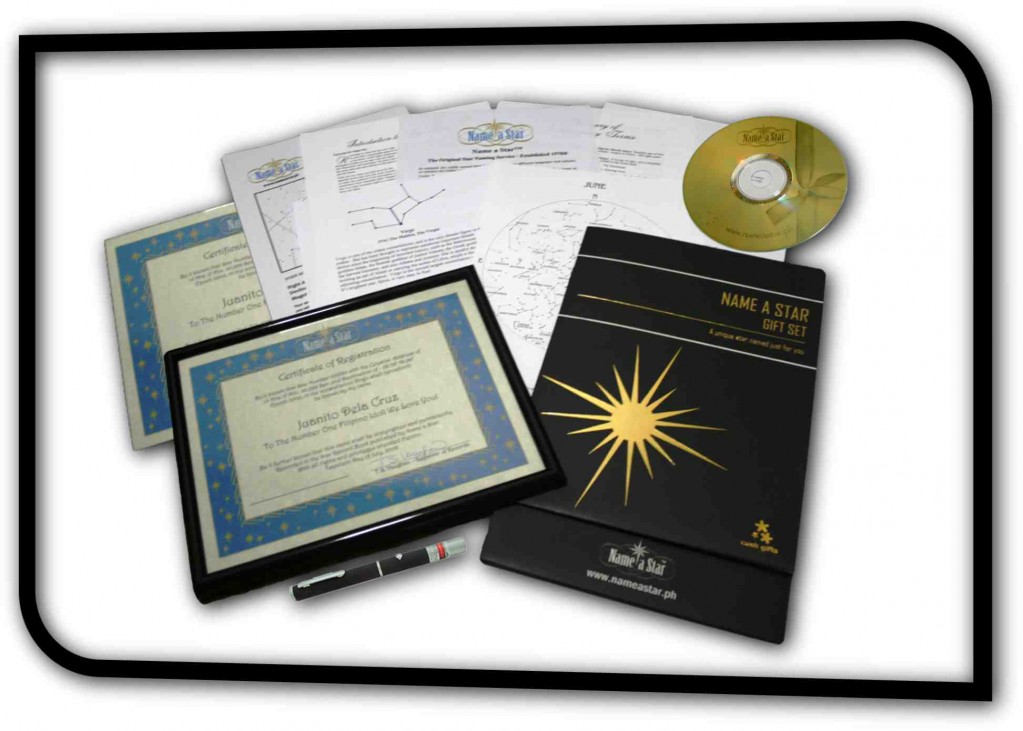 Your Name A Star Package is most meaningful to those who give and receive it. With Name a Star, it's the idea that counts…and the joy that comes from naming a star after someone and giving a little piece of heaven.
Give it a thought. Think of a great setup for your next special event. Then consider Name A Star to be part of that to make it even more special. You will never regret it.

On Behalf Of Your Name A Star Family
Keep Lookin' Up!
Warm Regards,

Jeff Tan – Name A Star Ph Director
P.S. You can't get any more personalized than this. Give a star a name and make that person be remembered eternally.When it comes to gifts, you just can't go wrong with Name A Star.
Getting started is just 1 click away: Click here now.
P.P.S. We are the original star naming company in the world and we make sure your names are registered in our Official Name A Star Record Book. It is listed with the United States Copywrite Office. The Name a Star™ Record Book is updated and published periodically.
©NameAStar.Ph – All Rights Reserved